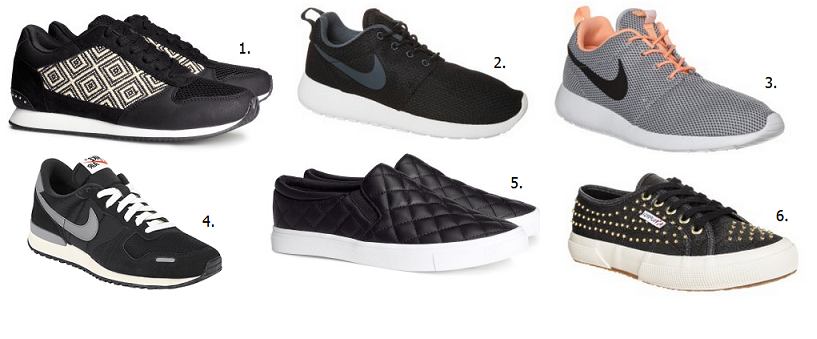 1. H&M - 2. & 3. Nike Roshe Run & 4. Nike Vortex via
Zalando.nl
- 5. H&M - 6. Superga
DUTCH:
Is het gek als ik weer op zoek ben naar nieuwe schoenen? Ik weet niet wat ik heb, maar de laatste tijd heb ik zoveel zin om te shoppen haha. Ik bekijk websites om te zien als er schoenen zijn bijgevuld of er nog leuke tassen zijn of een mooie jas.
Nu het wat kouder wordt, ben ik sneller geneigd om sneakers te dragen omdat die simpelweg lekker warm zijn. De enkellaarzen worden al gauw wat kouder omdat ze vaak van leer zijn. Wellicht misschien omdat ik nu ook nog lange dag maak, omdat ik veel deadlines moet halen en mijn tentamens. Die over twee staan gepland of zelfs minder dan dat… *huil*. Het enige wat ik kan zeggen is dat ik altijd een voorkeur zal hebben voor, je raad het al: (bijna) zwarte schoenen.
ENGLISH: I craving for some new shoes, I mean some new black shoes.
WITH LOVE,