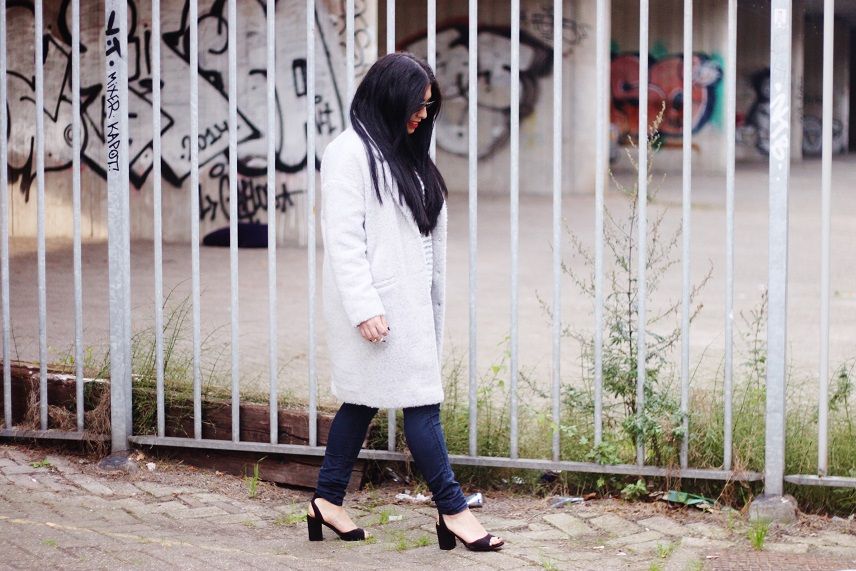 Nu ik dit tik hoor ik eigenlijk te slapen, maar door mijn enthousiasme kan ik gewoon niet slapen. Ik heb vandaag (nu je dit lees gisteren dus) namelijk mijn propedeuse uitreiking gehad en wat voelde dat geweldig. Ik heb hiervoor twee andere opleiding gedaan, alles hiervoor kun je hier lezen en nu heb ik hém gehaald! Na de uitreiking ben ik gezellig met mijn medestudenten de stad in gegaan en wij hebben het even gezellig en goed gevierd samen.
Deze outfit heb ik afgelopen zaterdag geschoten toen het offerfeest was en ik de hele familie op bezoek had. Wij begonnen de dag gezellig met een ontbijt bij ons en sloten het goed af. Tussendoor waren Cana en ik van plan om foto's te schieten toen mijn neefje Miran (op de foto) en nichtje Sara mee wilden gaan. Mijn neefje vond het hartstikke leuk en wilde ook even poseren net als zijn tante. Prima accessoires vind je niet haha *flauw grapje*?
Ik heb hier mijn nieuwste jas en truitje aan van de Primark. Beide liet ik in mijn laatste shoplog zien. Ik ben zo blij met mijn jas want mijn vorige winterjas was eigenlijk mijn herfstjas en die heb ik goed versleten. Hebben jullie al een winterjas kunnen scoren en zijn jullie winterproof?
Liefs,
Hazal
ENGLISH: This weekend I had a family day with my family. Between all the food we had some time to shoot some photos. Isn't it cute how my nephew wants to be in the pictures with me?